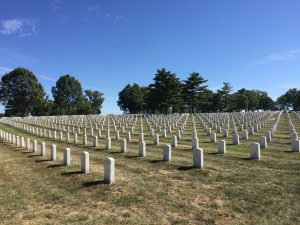 Rolling hills, sacred space carved by God's hand
High ground, a fitting journey's end for soldiers,
Spills life into the flowing Mississippi below.
A tree here, a bench there, a flag playing in the wind
The smell of early, fresh-cut grass watered by tears
Silence is the loudest sound here
Loud words taste bitter in this solemn place
The touch of a soft and steady breeze
God's sweet breath, a reminder—He is always here.
Streets with heroes' names run like veins through these hills
They guide the parade of mourners to the stones.

Stones cut from God's earth and carved by man
Sun-bleached, stained by time, standing tall—like
Silent sentinels guarding the brave that rest below.
Dressed and covered in death as in life
Some 20,000 strong this army of stone.
Stones that know the names over whom they watch—
Otto, Gary, Bobby, Howard, George, Willie
Uncle, father, son, brother, grandpa
Private Combs, Sergeant White, Lt. Scott, Capt. Gillis.
Stones that tell the story of the heroes in their shadows
Purple hearts, bronze stars, a Medal of Honor.
They came from distant places to rest here—
Gettysburg, Argonne Forest, Normandy, Pusan, Khe Sanh, Falluja
So many wars, so many stones.
Here lie dreams of what might have been—
A sweetheart sleeps, a father who never saw his child,
A book never written, a song never sung.

To these fields of stone loved ones come to grieve
They tag the stones—Gone too soon, Gentle giant, See you soon, BFF
For all that rest here, "Job well done."
The things they leave behind, tokens of love, memories for the living—
Flowers, golf balls, family pictures, Holy cards, a pin wheel spinning in the breeze.
I want to leave but can't.
I want to stay longer, grieve, and pray once more for their souls.
I must thank God again, for by His grace, I've yet to claim my stone.